Advising and academic technology tutorials
VCU has many tools to help you create your own personalized academic success plan, to ensure that you graduate on time and on budget. This video will introduce you to the tools you will use most frequently as you plan out your academic program, register for classes, and prepare to start your semester off strong. Detailed instructions and how-to guides are included below.
Navigate
Navigate helps students get connected to the people, places, and resources that will help them make the most of their time at VCU. You should plan (and some majors will require you) to meet with your academic advisor every semester to review your goals and graduation plan. Students can access Navigate two ways, via the my.vcu.edu portal, or the Navigate Mobile App. We highly recommend that students download the Navigate mobile app in order to have access to the most features and to receive push notifications of important deadlines and messages.
Make appointments with advisors, tutors, coaches and counselors using Navigate
Get walking and driving directions to your classes in Navigate
Explore majors and careers using the Major Explorer
Stay on track and keep up to date by checking things off your to-do list
Get notified of and resolve holds quickly
Find classmates to study with by using the Study Buddy feature
Major selection and degree planning
To graduate on time, you've got to make a plan. Your curriculum will be made up of core courses, electives and general education classes. These tools will help you first identify the majors at VCU that align with your career and professional goals, and then will help you graduate on time by creating a step-by-step roadmap to your success.
Accessing your courses online
VCU supports a learning management system called Canvas. You can access Canvas from your my.vcu.edu portal, in the General Resources section of your student tab, or via the VCU Mobile application.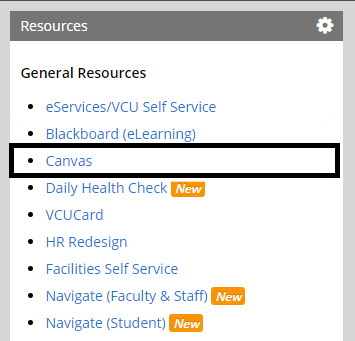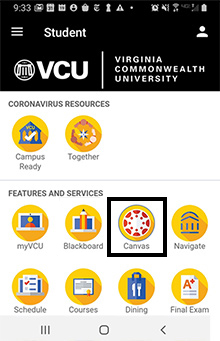 Tutorial: How to access your online courses in Canvas
Getting started with Canvas in 10 steps
Managing Your Student Tab on eServices
Course registration:
Student record:
Academic transcripts:
Degree Works 5: